The Garnock Valley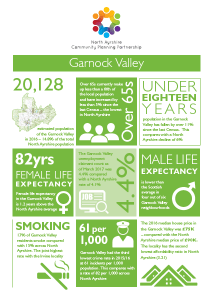 Welcome to our web pages where you will be able to find out all you need to become involved in making your Locality better.
The Garnock Valley includes the towns of Beith, Dalry, and Kilbirnie, and some smaller villages such as Gateside, Barrmill, Longbar and Glengarnock. It has a combined population of around 20,000.
Historically, the area was built around the flax and weaving industries before iron and steelmaking took over in the 19th and early 20th centuries. It is a rural area with lovely walks, scenery and plenty of wildlife.
Interestingly, the suburb of Kilbirnie in the New Zealand capital of Wellington is named after the Garnock Valley town. You can download our Garnock Valley Infographic here
If you live in the Garnock Valley and would like to become involved our Locality Partnership might interest you. Alternatively, you may be interested in joining your local Community Council. Please see the links on the right of this page.
Local funding may be available through Grant Applications.
Garnock Valley Locality Partnership 2022 Meeting Dates
Meeting dates for June – December will be posted after the Local Government Elections.
All meetings will be held from 7.00 to 9.00 pm. Meeting papers can be viewed here.
Garnock Valley Locality Partnership Impact Report
Community News
The third newsletter for the Lochshore Park Design is now available. To view please click here.