To improve the engagement between key partner organisations and the communities they work within North Ayrshire has been split into six localities. For more information specific to each of these localities simply click on the areas shown at the bottom of this page.
Overview Reports
These reports give an overview of Locality Planning, how we got here and the progress made.
How the Locality Partnerships Operate
The Locality Partnership – Terms of Reference explains how these groups work.
The Locality Partnership Standing Orders explain the governance arrangements for the Locality Partnerships.
Community Investment Fund
Our Locality Partnerships have been considering how they might best address local priorities using the Community Investment Fund.
If you have an idea and you think it meets the criteria for the fund please get in touch with the relevant Locality Officer (contact us for their details). They will work with you to develop this idea in conjunction with the Locality Partnership.  If the Partnership supports a bid then the group will be encouraged to submit a full application form, which they will decide upon before making a proposal to Cabinet for final approval. An overview of the process is available here: Community Investment Fund Development Process.
Further documentation in relation to the Community Investment Fund can be found below:
Community Investment Fund Guidance Notes
Community Investment Fund Expression of Interest Application Form
Locality Priorities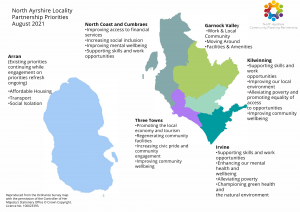 Local News
North Ayrshire Council is planning to develop 7 properties at Laburnum Avenue, Beith and 7 new properties at Newhouse Drive, Kilbirnie. The plans below have been provided to allow local people and interested parties to [...]
North Ayrshire Community Planning Partnership (CPP) is public agencies working in partnership locally with communities, the private and third sectors. Locality Planning is a focus on the aspirations and needs of our six localities across North Ayrshire. [...]
An incredible 4,131 young people have helped make the dreams come true for almost 100 youth projects which will share a £56,000 windfall. North Ayrshire Council's Young People's Participatory Budgeting Initiative invited those aged between [...]