The Three Towns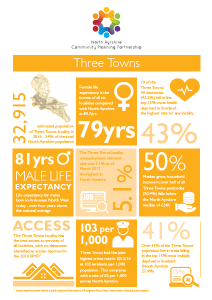 Our locality area (the Three Towns of Saltcoats Stevenston and Ardrossan) is situated to the north of Kilwinning  and we have around 32,980 residents. The area is steeped in history and has stunning scenery and lovely beaches.
The ferry to the Isle of Arran leaves from Ardrossan Harbour. There are plenty of landmarks, shops and restaurants throughout the area.
The newly developed Saltcoats Town Hall is a hub of activity hosting weddings, community events and business meetings amongst other things. Auchenharvie Leisure Centre and Auchenharvie Golf Club between Stevenston and Saltcoats provide great opportunities to stay active. Download our Three Towns Infographic here
If you live in the Three Towns and would like to become involved our Locality Partnership might interest you. Alternatively, you may be interested in joining your local Community Council. Please find out more via the links to the right.
Local funding may be available through Grant Applications.
Three Towns Locality Partnership 2021 Meetings
17 March 2021 –  On-line via Microsoft Teams
16 June 2021 –  On-line via Microsoft Teams
16 September 2021 – On-line via Microsoft Teams
15 Decemebr 2021 – On-line via Microsoft Teams
All meetings will take place from 6.00 – 8.00 pm in the Ardrossan Civic Centre. To view the meeting papers please click here.
Three Towns Locality Partnership Impact Report
Community News
The feedback received as part of a public consultation on the Scottish Government's Fireworks and Pyrotechnics Bill has been published. It shows high levels of support for the introduction of a new offence to criminalise the supply of [...]