Kilwinning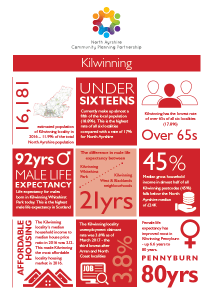 Kilwinning is a busy locality in North Ayrshire . It sits on the River Garnock, just north of Irvine and 21 miles south of Glasgow.  There are around 16,100 people who live within its communities and many of them volunteer and work in the area to make life better for the people there. Our Kilwinning Infographic can be downloaded here
Kilwinning has a whole range of clubs, organisations and activities that take place in or around the area such as Kilwinning Heritage (a local history group), Kilwinning Sports Club, and the Ayrshire College campus. These are a small selection but there are many more.
Find out about who has activities running in your area here
If you live in Kilwinning and would like to become involved the Locality Partnership might interest you, or you may be interested in joining your local Community Council. The links on the right of this page will give you more information.
Local funding may be available through Grant Applications.
Kilwinning Locality Partnership 2020 Meeting Dates 
Tuesday 21 January 2020 – Ayrshire College, Kilwinning
Monday 9 March 2020 – Kilwinning Library
Monday 1 June 2020 – Kilwinning Academy – Meeting Cancelled.
Thursday 3 September 2020 – Kilwinning Academy
Thursday 3 December 2020 – Kilwinning Academy
All meetings will be held from 7.00 – 9.00 p.m.   Meeting papers can be viewed here.
Community News
The new national facility for young people being built at Ayrshire Central Hospital in Irvine needs a name and we want your help to choose one. We hope that work will start on the 12-bedded [...]
Skills Development Scotland have published their performance update for North Ayrshire. To view this please click here.