Arran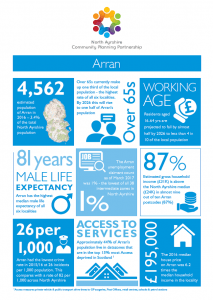 Arran or the Isle of Arran is the largest island in the Firth of Clyde and with an area of 432 square kilometers, it is the seventh largest Scottish island. Arran has around 4629 residents. Its main industry is tourism.
There is a huge diversity of wildlife and it has been described as a geologist's paradise due to its divided landscape of highland and lowland areas.
The main villages on Arran include Lochranza, Brodick, Lamlash, Whiting Bay, Blackwaterfoot and Corrie.
Download our Arran Infographic here
If you would like to find out more about Arran our key facts page might help.
If you live on Arran and would like to become involved our Locality partnership might interest you. Alternatively, you may be interested in joining your local Community Council.
Local funding may be available through Grant Applications.
A joint Locality Partnership, bringing together the Community Planning and Health and Social Care Partnership arrangements, has been established on Arran. This new approach will be piloted for 12 months. This will create the first such arrangement in Scotland. For further details please see the attached report
2020 Locality Partnership Meetings:
Tuesday 24 November 2020 – 2.00 – 4.00 pm.
Community News
All of our meetings are open to the public and all you have to do to contribute is speak to your local Community Representative about what you want to put forward. If you don't [...]