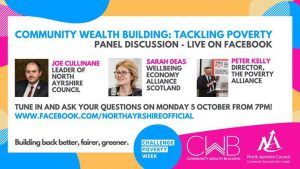 North Ayrshire Council would like to invite you to join us for a Webinar which will look at Community Wealth Building as an approach to tackle poverty and achieve a wellbeing economy. This will kick off a series of events that we will be doing to support Challenge Poverty Week, which runs from 5 -11 October. This is the fifth year that North Ayrshire Council has supported the Poverty Alliance's campaign and we look forward to participating once again this year.
The launch will be broadcast on North Ayrshire Council's Facebook Page on Monday 5  October 2020 at 7.00 pm.
We are proud to be the first Local Authority in Scotland to implement a Community Wealth Building strategy to deliver a new economic model focused on wellbeing and inclusion. Our Council Leader Joe Cullinane will host the event and we are delighted to announce that he will be joined on the evening by Sarah Deas, Trustee,
Wellbeing Economic Alliance (Scotland)  and Chair of North Ayrshire's CWB Expert Advisory Panel, and Peter Kelly, Director of the Poverty Alliance.
For more information, please click here.