The Lennox Partnership and Castlepark Community Garden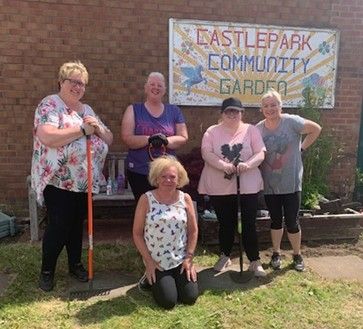 The garden at Castlepark Community Centre has been a longstanding and important feature in the local community, providing a safe space for local people to relax and connect with nature and food growing on their doorstep.
The garden, which had been so well maintained that it had won prizes in Irvine's Marymass celebrations, had fallen by the wayside as the volunteers at the centre urgently re-focussed on responding to the needs of their community during the COVID-19 pandemic.
With restrictions on gatherings preventing volunteers coming together to keep on top of the maintenance, the garden had become overgrown during lockdown and in need of targeted support to bring it back to life.
The Lennox Partnership are a social enterprise who deliver the We Work For Families programme in partnership with North Ayrshire Council. The project offers holistic employability support to parents looking to start work or rejoin the workforce after a gap in employment, building their confidence and skills, identifying and overcoming barriers, and offering a helping hand to map out a route back to work.
They contacted the Council to discuss the support their team could offer as part of their community benefit agreement as contractors – ideally something outside to keep staff safe, and if possible, within a community they have an existing presence in: the garden at Castlepark was a perfect fit!
5 staff from The Lennox Partnership spent a day working alongside volunteers at the community centre, working to clear 18 months of weeds and overgrown beds, painting the garden's pergola and raised beds, clearing ground and laying slabs to allow the installation of a shed for tool storage and the installation of a new polytunnel.
The support from The Lennox Partnership staff allows the community groups who depend on the services at Castlepark Community Centre to get back out enjoying the garden again.
The installation of the polytunnel and restoration of the raised beds will support community growing, with fruit and veg produced in the garden going into meals for the lunch club and surplus produce made available to local people.
The Brownie and Guide groups starting back in late August now have a raised bed ready for their growing projects, and the polytunnel will allow the centre to grow more produce from seed, reducing costs and engaging more centre users in growing.
The Lennox Partnership are keen to re-visit the garden in the coming months with some of their clients from the We Work For Families programme, bringing more volunteers along to help and connecting local people with things happening in their community.
Ambitions for the garden don't stop there, though: aside from plenty of painting, weeding and ongoing maintenance, next on the agenda are a biodiversity area with wildflowers to encourage beneficial insects and the possibility of a green gym is also being explored.
If you're a Council contractor who could support the group at Castlepark garden with achieving their next steps, then reach out to us at communitybenefits@north-ayrshire.gov.uk