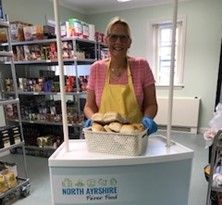 Issues of food insecurity in North Ayrshire were brought into sharp focus by the COVID-19 pandemic, with actions taken to address the reality of chronic food poverty and food crisis across our communities.
Many people who had been 'getting by' before COVID-19 suddenly found themselves struggling to make ends meet due to job losses and furlough. Through discussions between the Council and community partners, a number of community larders opened, and the North Ayrshire Fairer Food network was established.
The larders operate on a membership basis and provide a top up to a weekly shop at an affordable cost. For a weekly fee of between £3 and £5, members can select from a range of donated, surplus and purchased food items and other essentials up to the value of £20.
This is a more sustainable and dignified approach to tackling chronic food poverty and food insecurity compared to an emergency food parcel, and allows members to choose what they'd like based on what's available. Savings from using the larder means that members can stretch a limited budget further, helping them to pay a bill or pay for their child to attend an after school activity that they wouldn't otherwise be able to.
Membership criteria is intentionally broad; anyone who has struggled to cover the costs of bills, rent, food or other essentials, or finds themselves running out of money towards the end of the week is eligible to join their local larder.
One of the challenges faced by the larders is procuring fresh bread for their members. The larders are heavily reliant on donations of food from supermarkets and schemes like Fareshare, meaning that bread is often very short dated and needs to be used that day.
Fergusons Bakery, based in Kilmarnock, have provided North Ayrshire Council with fresh bread rolls through the Scotland Excel framework since October 2019.
Fergusons and the Council discussed spend through the Scotland Excel framework (and the community benefits associated with it) in spring 2021. Beginning in July 2021, the bakery has supplied the larder network with 720 freshly baked rolls each week at no cost. This has enabled the larders to reduce their outgoings and offer their members fresh, locally made rolls that have been baked for them, rather than donated due to their sell-by dates.
This is a fantastic result for the North Ayrshire Fairer Food Network and the local people who rely on it for access to good food at a low price, and is a great example of how businesses with Council contracts can support community projects over the long term, rather than with a one off donation or project.