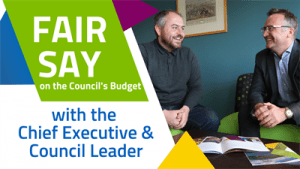 Our Chief Executive Craig Hatton and Council Leader Joe Cullinane are hosting a series of budget engagement sessions during November, giving communities their Fair Say on our Council's Budget.
The sessions will enable us to share the challenge, listen to local views and to generate ideas that could help ensure priority services are delivered as efficiently as possible.
You will hear all about the Council's new direction of travel following the launch of our Council Plan. You'll also learn more about our plans to transform the way services are delivered, as well as have the opportunity to put your questions directly to us.
Each session with take the form of:
Registration
Setting the scene
Question & answer
Interactive drop-in stalls
Wrap up
To secure a place at the session, click on the link to the session you wish to attend:
Thursday 7 November, 1.30-4pm – Shiskine Hall, Arran
Thursday 7 November, 5.30-8pm – Brodick Hall, Arran
Monday 11 November, 5.30-8pm – Saltcoats Town Hall
Tuesday 12 November, 5.30-8pm – Largs Campus 
Monday 25 November, 5.30-8pm – Kilwinning Academy