PARTNERSHIP WORKING – NORTH AYRSHIRE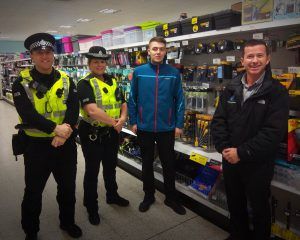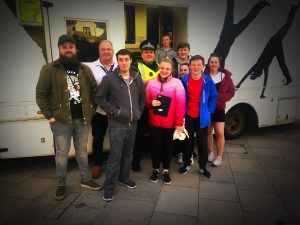 Your community, our priority – the message from police and partners in North Ayrshire following a multi-agency day of action focusing on Irvine Town Centre.
In response to local concerns and a recent increase in antisocial behaviour and disorder in the area a series of interventions have aimed to target issues identified as a priority for local residents and visitors.
As part of the Prevention First initiative police have been working with partners including North Ayrshire Council, the Scottish Fire and Rescue Service, local housing providers and community representatives.
On Friday 10th May 2019 additional officers were deployed in the area for activities including:
The search of a property in McKinlay Crescent, Irvine under the powers of a Sheriff Search Warrant, where a quantity of suspected class C drugs were seized for further analysis. A man was also reported to the Procurator Fiscal for the alleged theft of electricity.
Police and Trading Standards Officers conducting joint visits to premises selling knives to promote responsible retailing for age restricted products.
Multiagency inspections of licensed off sales premises to ensure compliance with legislation and encourage vigilance for proxy purchases of alcohol for underage young people.
Mounted Branch officers on patrol to engage with visitors which resulted in the arrest of a 58 year old man in West Road who had 4 outstanding Court warrants.
Additional patrols focusing on road safety and enforcement of traffic restrictions which resulted in 5 fixed penalty notices being issued to drivers.
Provision of the Mobile Youth Centre in Bridgegate from 6 to 8pm offering console gaming and opportunities to charge mobile phones.
Speaking on Friday Chief Inspector Brian Shaw, Area Commander for North Ayrshire, commented "we are committed to tackling issues of local concern and to working with communities in doing so.  Today was an opportunity to highlight just some of the work that takes place on a daily basis as we work to make North Ayrshire a safer place to live, work and visit.
"We have been working with the North Ayrshire Council Antisocial Behaviour Investigation Team, meeting young people and their parents or carers, to highlight the impact and consequences of engaging in antisocial behaviour. Additional police patrols have been conducted in the area, and we are working closely with public space CCTV operators and businesses to tackle any issues that arise.
"A recent multi agency walkabout in the area with community representatives identified particular areas of graffiti and damage which contribute to the fear of crime. An action plan is underway which includes environmental improvements and we will continue to support our partners in their efforts.
"We would like to thank everyone who took the time to speak with us and our partners for their continued support. I would encourage anyone with any concerns about crime and safety in their community to contact us."
Police Scotland can be contacted by calling the national non-emergency number 101 (in an emergency always dial 999).