Dalry Community Development Hub broke ground on a new community garden in April 2021, and since the first volunteers arrived, there's been a remarkable change on the previously derelict site. Sensory raised beds for groups with additional support needs have been installed; craft groups meet to share learning; older people who have been isolated for the last 18 months pop in for a tea and a chat; and children are able to get hands on experience of growing and cooking with fresh fruit and veg.
However, the garden surface was covered in a layer of chippings, making the the space inaccessible for wheelchair users and people with limited mobility.
The garden volunteers submitted a wish to the Wish List in September 2021, asking for help to source garden slabs for the garden paths. McLaughlin & Harvey and DAMM Environmental co-delivered the new garden surface, with McLaughlin & Harvey providing the materials, and staff from DAMM providing the labour in the garden. Sheena Woodside, one of the garden volunteers, told us that "we never thought in a million years the help would materialise! We're so grateful."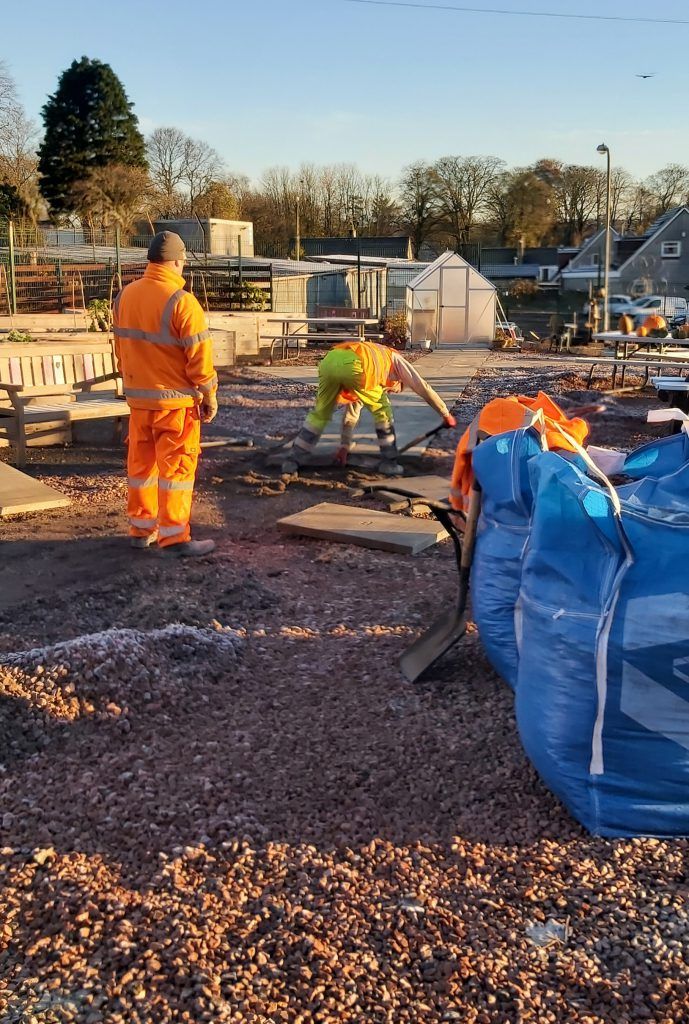 The work was completed over 4 days in November 2021, and there is now a network of paths crossing the entire site, which will allow more people than ever before to make the most of this fantastic community resource.
Yvonne Gilfillan, Commuity Liaison from McLaughlin & Harvey said: "McLaughlin & Harvey were delighted to collaborate with North Ayrshire Council and DAMM Environmental to provide an all-accessible path within Dalry Community Garden: a holistic and eco-friendly space, operated by volunteers and open for use by everyone in the Dalry community."
Raymond Kennedy from DAMM said: "DAMM Environmental were pleased to be part of the Dalry Community Garden's fantastic journey so far. Working closely with McLaughlin & Harvey and North Ayrshire, we were able to provide access paths to various locations within the garden. We hope that the Dalry community can continue to benefit from the great work undertaken by the garden volunteers"
So what's next for the garden?
The new paths were put to good use at a Christmas event held at the garden in early December, where there was lots of positive feedback! "What a difference this has made to the garden!" and "I'll be able to bring my pram next time!" were just some of the comments from the public since the paths were installed.
Ambitions for the garden don't stop there though: the many community groups who enjoy the garden will be back once the worst of the winter weather is over, and with plenty of classes in growing, planting, food and arts and crafts lined up for 2022, watch this space to see what happens next!